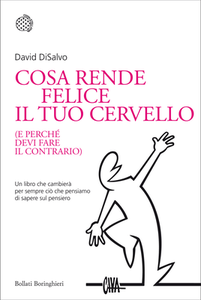 David DiSalvo - Cosa rende felice il tuo cervello (e perchè devi fare il contrario) (2013)
Italian | 2013 | 336 Pages | ISBN: 8833923819 | EPUB/PDF | 5 MB
Fondato su ricerche d'avanguardia, esposto in modo contagioso e irresistibile, questo libro di esemplare chiarezza si propone come un manuale di science-help, che è cosa ben diversa dal self-help. Negli ultimi anni gli studi cognitivi, le ricerche di psicologia sperimentale e le neuroscienze hanno accumulato una grande quantità di dati sul cervello umano, svelando meccanismi che ci erano completamente oscuri e ridisegnando le nostre conoscenze in questo campo. Così, a mano a mano che ci si addentra nei meandri del nostro cervello e dei suoi comportamenti, avviene che le bizzarre ricette dei guru del benessere psichico o dei sedicenti maestri del successo personale ci appaiano sempre meno plausibili e mostrino tutta la loro debolezza. Con l'avanzare degli studi siamo in effetti sempre più in grado di fornire un altro tipo di «ricette», empiricamente fondate, che ci aiutano a tenere sotto controllo certe evidenti deviazioni di quel prodigioso organo del pensiero che non ha cessato di evolversi da milioni di anni.
Pe... in ITALIANO CLICCA QUI
>&... Blog Here <<<
If you like this release please support Developer / Publisher and BUY it.
If you'll find that my links are dead please let me know through the Private Messages.
Please DO NOT MIRROR