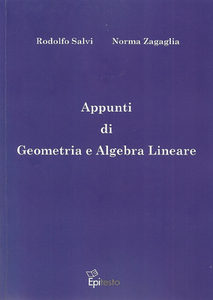 Rodolfo Salvi, Norma Zagaglia - Appunti di Geometria e Algebra Lineare (2011)
Italian | Epitesto | 2011 | PDF | Pages 164 | ISBN: N/A | 11 MB
In questo testo sono presentati argomenti trattati nel corso di geometria ed algebra lineare per studenti del primo anno delle facoltà di ingegneria. Lo scopo principale è di introdurre lo studente alle nozioni e proprietà fondamentali della geometria, in particolare la geometria analitica, e dell'algebra lineare. I metodi ed i risultati dell'algebra lineare, che possono sembrare dapprima un po' astratti, si rivelano in effetti strettamente legati alla geometria e ricchi di spunti per applicazioni precise e concrete. Quasi ogni argomento è accompagnato da esempi ed esercizi svolti. I testi indicati nei riferimenti bibliografici, consultati per la preparazione di questi appunti, sono un utile riferimento per coloro che desiderano approfondire ed estendere gli argomenti trattati.
Pe... in ITALIANO CLICCA QUI
>&... Blog Here <<<
If you like this release please support Developer / Publisher and BUY it.
If you'll find that my links are dead please let me know through the Private Messages.
Please DO NOT MIRROR