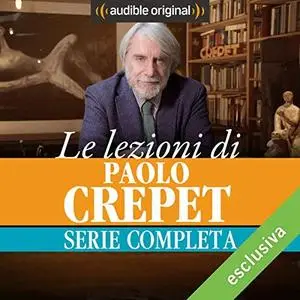 Paolo Crepet - Le lezioni di Paolo Crepet - La serie completa
Audiobook | Audible GmbH | Italian | 09 Aprile 2018 | MP3@64 kbps | 05 hrs 12 mins | 147 MB
Narrator: Paolo Crepet
Le lezioni di Paolo Crepet, uno dei più noti e illustri psichiatri e sociologi italiani, sono un'occasione di riflessione su alcuni dei temi più dibattuti della società in cui viviamo: dalle dipendenze alla violenza di genere, dalla disoccupazione giovanile alle nuove tecnologie, dai "millennials" alle famiglie arcobaleno.
L'autore stesso le definisce "appunti per un viaggio in cui ciascuno di noi ha un costante bisogno di orientarsi". Sono riflessioni lucide e ben documentate, sempre in equilibrio tra il rigore scientifico dello studioso e l'abilità del divulgatore, caratteristiche grazie alle quali Crepet si è conquistato un posto di primo piano sui media cartacei e televisivi.
Pe... in ITALIANO CLICCA QUI
Ca...li AUDIOBOOK CLICCA QUI
>&... Blog Here <<<
If you like this release please support Developer / Publisher and BUY it.
If you'll find that my links are dead please let me know through the Private Messages.
Please DO NOT MIRROR

Password:
libri