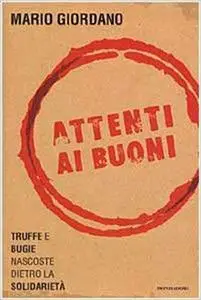 Mario Giordano - Attenti ai buoni, Truffe e bugie nascoste dietro la solidarietà (2003)
Italian | 2003 | PDF | Pages 234 | ISBN: N/A | 5 MB
Dalle associazioni che si spartiscono le elemosine raccolte davanti alle chiese e agli ospedali alle grandi organizzazioni internazionali (Onu, Fao, ecc.), dai supereventi che ormai si moltiplicano (Partita del Cuore, Telethon), ma su cui raramente ci sono veri controlli, all'allegra gestione delle adozioni a distanza, dalle associazioni che si spartiscono i contributi pubbblici fino alle vergogne della Croce rossa, Mario Giordano alza il velo su una delle ultime ipocrisie del "volemose bene" all'italiana e rivela tutte le truffe nascoste dietro la parola magica "solidarietà".
Pe... in ITALIANO CLICCA QUI
>&... Blog Here <<<
If you like this release please support Developer / Publisher and BUY it.
If you'll find that my links are dead please let me know through the Private Messages.
Please DO NOT MIRROR