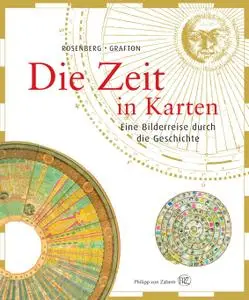 Daniel Rosenberg, Anthony Grafton - Die Zeit in Karten. Eine Bilderreise durch die Geschichte (2015)
Deutsch | 2015 | ISBN: N/A| 450 pages | EPUB/PDF | 62 MB
Wussten Sie, dass der Zeitstrahl keine 250 Jahre alt ist? Und dass die Menschen in Altertum und Mittelalter ganz andere Darstellungen gewohnt waren, um zeitlichen Ereignissen eine Gestalt zu geben, wie prächtige Tafeln, Tabellen oder Bäume? Für diesen großen Bildband öffneten Archive berühmter Bibliotheken den Zugang und ermöglichen ein in der Breite bisher einmaliges Bildmaterial: Mit Abbildungen aus alten Annalen der Kirchenväter aus St. Gallen, Tafelwerken Albrecht Dürers bis zu wandgroßen Kunstwerken wie dem ›Strom der Geschichte‹ bietet der Band in dieser Zusammenstellung einmaliges Bildmaterial. Tauchen Sie ein in einen von Wissenschaft und Kunst gleichermaßen gefeierten Bildband, der fachlich erstklassig kommentiert wird von zwei der größten Koryphäen für Wissenschaftsgeschichte, Daniel Rosenberg und dem Inhaber des höchsten deutschen Kulturordens: Anthony Grafton.
Pe... in ITALIANO CLICCA QUI
>&... Blog Here <<<
If you like this release please support Developer / Publisher and BUY it.
If you'll find that my links are dead please let me know through the Private Messages.
Please DO NOT MIRROR