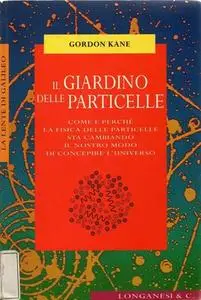 Gordon L. Kane, Libero Sosio - Il giardino delle particelle. Come e perché la fisica delle particelle sta cambiando il nostro modo di concepire l'universo (1998)
Italiano | 1998 | 249 pages | ISBN: N/A | EPUB/PDF | 10.9 MB
La scienza fa passi da gigante in tempi brevissimi. La nozione di atomo che si aveva all'inizio del secolo è stata soppiantata da una visione assai più complessa e le svariate decine di particelle attualmente note compongono quello che l'autore del presente volume chiama un "giardino". Di questo giardino, che è l'universo, le particelle subatomiche (elettroni, quark, fotoni, eccetera) sono per così dire i "semi", e il compito di approfondirne la conoscenza è stato affrontato a livello teorico e sperimentale. Riferire i risultati di tali ricerche in termini comprensibili per non iniziati non è facile, ma è quello che tenta di fare l'autore con questo saggio.
Per scaricare Altri LIBRI in ITALIANO CLICCA QUI
>>> Visit My Blog Here <<<
If you like this release please support Developer / Publisher and BUY it.
If you'll find that my links are dead please let me know through the Private Messages.
Please DO NOT MIRROR