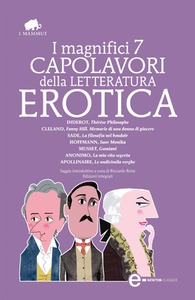 AA. VV. – I magnifici 7 capolavori della letteratura erotica (2013)
Italiano | 2013 | 1254 pages | ISBN: N/A | EPUB/AZW3/PDF | 9.6 MB
Sette fra i più celebri romanzi condannati per secoli a giacere dimenticati negli "inferni" delle biblioteche, sette libri "maledetti" e sovversivi appartenenti a quel filone sotterraneo (ma assolutamente non "minore") che conobbe i suoi momenti aurei soprattutto nella Francia da Luigi XIV a Luigi XVI, nell'Inghilterra vittoriana e nella Germania del XIX secolo; libri in cui il corpo diviene libero e provocatorio protagonista, facendosi beffe di ogni ipocrisia, sfidando a viso aperto il potere e il bigottismo, svelando – spesso con caustica ironia – l'altra faccia della medaglia, il lato oscuro e rimosso della società. Dai fremiti di Diderot con Thérèse Philosophe al celeberrimo Fanny Hill di John Cleland, dalle efferatezze della Filosofia nel boudoir di Sade agli "eccessi" diffamatori di Musset (che scrisse Gamiani contro George Sand), dalle piccanti confessioni di un Anonimo vittoriano alle grottesche, deliranti scurrilità delle Undicimila verghe di Apollinaire, il lettore riscoprirà pagine che ancora oggi sorprendono per la loro forza e la loro totale irriverenza.
Pe... in ITALIANO CLICCA QUI
>&... Blog Here <<<
If you like this release please support Developer / Publisher and BUY it.
If you'll find that my links are dead please let me know through the Private Messages.
Please DO NOT MIRROR