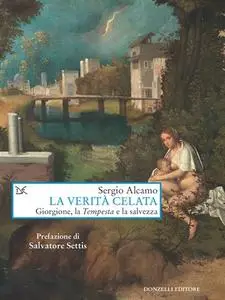 Sergio Alcamo - La verità celata. Giorgione, la «Tempesta» e la salvezza (2019)
Italiano | 2019 | 363 pages | ISBN: N/A | EPUB/PDF | 33 MB
La "Tempesta" di Giorgione ha sempre rappresentato un mistero: pur essendo uno dei quadri più noti del Rinascimento, celebrato come esempio della maestria della scuola veneziana, vivisezionato in ogni dettaglio, questo dipinto mantiene intatto il suo segreto. Chi sono le figure in primo piano e a cosa alludono? Quale relazione intercorre con lo sfondo e il cielo in tempesta? Anche se in tanti hanno provato a rispondere a questi interrogativi, una delle letture più suggestive è quella di Salvatore Settis, il quale, grazie a una felice intuizione, suppose nel 1978 che i due giovani del quadro fossero Adamo ed Eva dopo la cacciata dal Paradiso terrestre. Quell'ipotesi ora si arricchisce, attraverso un'«indagine sottile e pazientissima», come la descrive lo stesso Settis nella Prefazione al volume, di «tasselli e nuove diramazioni interpretative». Prendendo le mosse dalla scoperta di un dettaglio inedito, abilmente mimetizzato nella tela, e grazie a un capillare confronto con opere affini - riprodotte in un ricco corredo iconografico -, il dipinto acquista un significato più ampio e si colloca in un preciso contesto, che si configura come una vera e propria fucina dell'arte moderna: la chiesa dei Servi di Maria a Venezia, frequentata da studiosi, filosofi, collezionisti e mecenati, tra cui Gabriele Vendramin, il committente dell'opera. Il risultato è una migliore definizione del contenuto dell'enigmatico quadro, riletto in chiave biblica e calato in un'età e in un ambiente gravido di fermenti culturali e inquietudini religiose e politiche, sospeso tra Umanesimo e Riforma cattolica. Prefazione di Salvatore Settis.
Pe... in ITALIANO CLICCA QUI
>&... Blog Here <<<
If you like this release please support Developer / Publisher and BUY it.
If you'll find that my links are dead please let me know through the Private Messages.
Please DO NOT MIRROR