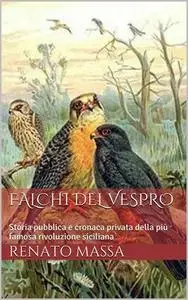 Renato Massa - Falchi del vespro. Storia pubblica e cronaca privata della più famosa rivoluzione siciliana (2014)
Italiano | 2014 | 656 pages | ISBN: N/A | EPUB/AZW3/PDF | 6 MB
La rivoluzione del vespro, avvenuta il 30 marzo 1282 a Palermo fu un fatto straordinario per l'epoca e, in quanto tale, è stata analizzata da diversi storici, in tempi moderni da Steven Runciman che ne ha fornito una lucida interpretazione nel quadro di una esasperata competizione per il potere tra il papato e il sacro romano impero. Secondo Runciman il papato perse gran parte della sua credibilità e del suo potere nel rabbioso tentativo di dare esecuzione forzata all'atto di deposizione formale dell'imperatore Federico ll compiuto nel 1245 dal papa. A questo, infatti, si lega la successiva investitura di Carlo d'Angiò, le sue guerre-lampo contro Manfredi e contro Corradino di Svevia e la successiva oppressione della Sicilia fino alla rivoluzione del 1282 e alla successiva guerra del vespro tra i regni di Aragona-Catalogna e di Francia. Tutti questi fatti costituiscono la trama stessa di questo romanzo il cui protagonista, Lucio da Menfi, nasce simbolicamente nello stesso giorno in cui muore l'imperatore Federico, viene strappato alle sue speranze di vita, di studio e di amore dalla invasione di Carlo di Angiò ed è costretto all'esilio in Catalogna dove viene a trovarsi a stretto contatto con i fuoriusciti siciliani che meditano la riscossa contro l'invasore. Questa sarà resa possibile dal paziente lavoro di Giovanni da Procida e dall'aiuto economico dell'imperatore romano di oriente, realtà delle quali pochi storici dubitano e che comunque nel libro sono mutuate dai lavori storici del Runciman e pertanto presentate come fatti oggettivi. Lucio e pochi altri sono i protagonisti di fantasia che si muovono accanto a una congerie di protagonisti storici che fanno le cose che per loro sono ben note: Jacopo Mostacci, Manfredi e Costanza di Hohenstaufen, i docenti della scuola medica di Salerno, Timidio Spongati, Latino Allardi, Alajmo da Lentini, Ruggero di Lauria etc.
Per scaricare Altri LIBRI in ITALIANO CLICCA QUI
>>> Visit My Blog Here <<<
If you like this release please support Developer / Publisher and BUY it.
If you'll find that my links are dead please let me know through the Private Messages.
Please DO NOT MIRROR