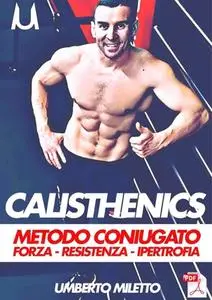 Umberto Miletto - Calisthenics metodo coniugato (2018)
Italiano | 2018 | 105 pages | ISBN: N/A | PDF | 5.5 MB
Grazie a questa periodizzazione ti potrai allenare un anno intero cambiando di mese in mese programma d'allenamento. Ho testato questa programmazione su decine di clienti e i risultati sono stati straordinari. Proprio per questo ho deciso di renderla pubblica per aiutare le persone a crescere muscolarmente grazie al Calisthenics e nello tempo diventare più forti e resistenti. In questa guida vi presenterò questo Metodo Coniugato con una Periodizzazione indedita. Si lavorerà meno con le skills e sarà molto incentrato sul lavoro con gli esercizi classici come Trazioni, Dip, Muscle up, Pistols, ecc… Ci sarà comunque anche un lavoro specifico per portare avanti Skills come Front Lever, Planche, Human Flag e Verticale.
Pe... in ITALIANO CLICCA QUI
>&... Blog Here <<<
If you like this release please support Developer / Publisher and BUY it.
If you'll find that my links are dead please let me know through the Private Messages.
Please DO NOT MIRROR