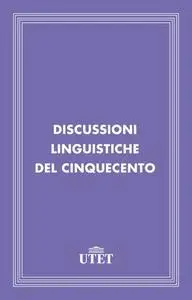 Mario Pozzi - Discussioni linguistiche del Cinquecento (2013)
Italiano | 2013 | 917 pages | ISBN: N/A | EPUB/PDF | 13 MB
Questo volume propone un excursus sulle discussioni relative al volgare svoltesi nel corso del Cinquecento, curato da Mario Pozzi. L'antologia, comprendente scritti come il Dialogo della volgar lingua di Piero Valeriano, il Dialogo delle lingue di Sperone Speroni e l'Epistola de le lettere nuovamente aggiunte ne la lingua italiana di Giovan Giorgio Trissino, esce oggi per Utet in un ebook che, insieme ai testi, propone un nutrito compendio esegetico fruibile in modo ipertestuale.
Pe... in ITALIANO CLICCA QUI
>&... Blog Here <<<
If you like this release please support Developer / Publisher and BUY it.
If you'll find that my links are dead please let me know through the Private Messages.
Please DO NOT MIRROR