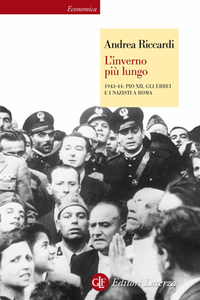 Andrea Riccardi - L'inverno più lungo. 1943-44. Pio XII, gli ebrei e i nazisti a Roma (2012)
Italiano | 2012 | 425 pages | ISBN: N/A | PDF | 11 MB
Ai tempi in cui Roma è città aperta e alla mercé dei tedeschi, tra le mura e i vicoli della città si consuma una guerra di fuggiaschi e nascondigli. È una guerra nascosta e cruenta che porta i civili in prima linea: cittadini, uomini e donne di chiesa, Pio XII in persona. Né potrebbe essere diversamente visto che Roma, di fatto e per comune sentire, non è più la capitale dell'effimero regime fascista della Repubblica sociale ma in tutto e per tutto la città del papa. E come lui non combatte l'occupazione ma nemmeno cede; resiste, si impegna a sopravvivere, aiuta i ricercati a nascondersi. Gli occupanti tedeschi lo avvertono e impongono il regime duro. In una Roma assediata dove le croci uncinate sostano sotto le finestre del papa, i nazisti catturano quasi duemila ebrei; muoiono nei campi di concentramento, alle Fosse Ardeatine. All'incirca diecimila, invece, sopravvivono nascondendosi in case private, nei conventi e nelle parrocchie, negli ospedali, nelle istituzioni e nei territori della Santa Sede. Taluni di quelli che sono venuti in aiuto ai perseguitati sono stati riconosciuti come 'giusti'. Di molti si è persa ogni traccia. Lungo queste pagine Andrea Riccardi richiama dall'oblio la storia di uomini e donne comuni che, quando il male ha bussato alle loro porte, hanno mostrato un grande coraggio, hanno condotto una vita fuori dell'ordinario e sono poi tornati, semplicemente, a quella di ogni giorno.
Pe... in ITALIANO CLICCA QUI
>&... Blog Here <<<
If you like this release please support Developer / Publisher and BUY it.
If you'll find that my links are dead please let me know through the Private Messages.
Please DO NOT MIRROR