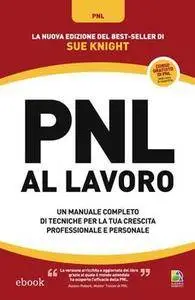 Sue Knight - PNL al lavoro. Un manuale completo di tecniche per la tua crescita professionale e personale (2014)
Italian | Alessio Roberti Editore | 2014 | PDF/EPUB | Pages 480 | ASIN: B00M2BULC2 | 11 MB
Arricchito di nuovi capitoli e aggiornamenti, torna uno dei libri più apprezzati sulla Programmazione Neuro-Linguistica, il manuale pratico che ha fortemente contribuito alla sua diffusione: PNL al lavoro. Il best-seller di Sue Knight, oggi arrivato alla sua terza edizione e ormai tradotto in 14 lingue, mostra come mettere la PNL letteralmente al lavoro nei suoi principali campi di applicazione. Leggendo e rileggendo i suoi capitoli, ne trarrete quella particolare attitudine che contraddistingue chi ha già scoperto la PNL: un senso di meraviglia misto a curiosità di fronte ai meccanismi della mente, una predisposizione alla ricerca dell'eccellenza e delle soluzioni efficaci, una tendenza a fare della propria vita personale e professionale un luogo meraviglioso dove scegliere ogni giorno di vivere.
If you like this release please support Developer /

Publisher and BUY it.
If you'll find that my links are dead please let me know through the
Private Messages.
Please DO NOT MIRROR

&g...>Blog Here <<<