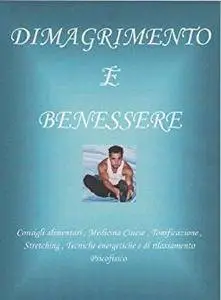 Maurizio Tovagliaro - Dimagrimento e benessere. Consigli alimentari, medicina Cinese, tonificazione, stretching, tecniche energetiche e di rilassamento psicofisico (2012)
Italian | Amazon Media EU | 2012 | PDF/EPUB | Pages N/A | ASIN: B009Y7DKWU | 10 MB
In questo libro, propongo metodiche di allenamento, consigli alimentazione e Tecniche di diverso genere, per mantenere e migliorare lo stato di benessere psicofisico di una persona! Le Tecniche proposte sono:autodiagnosi delle tensioni muscolari e stato dei Meridiani Energetici, attraverso lo stretching e tonificazione muscolare, con il conseguente approccio alimentare attraverso la Medicina Cinese;consigli sull'esatta postura da mantenere nella vita di tutti i giorni; infine consigli sia alimentari e attività adeguate, affini al dimagrimento o mantenimento peso corporeo e prevenzione della cellulite!
If you like this release please support Developer / Publisher and BUY it.
If you'll find that my links are dead please let me know through the Private Messages.
Please DO NOT MIRROR

&g... Blog Here <<<