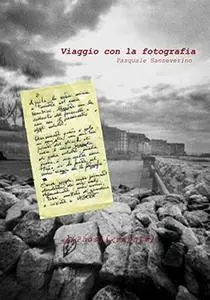 Pasquale Sanseverino - Viaggio con la fotografia (2016)
Italiano | 7 aprile 2016 | ASIN: B01E0MUGXY | 210 Pagine | AZW3/MOBI/EPUB/PDF | 15.2 MB
E' l'inizio di un nuovo viaggio alla scoperta del passato per imparare a scrivere con la luce il nostro presente e futuro. Un viaggio con la fotografia nella fotografia. Un viaggio per mettersi in discussione per crescere insieme e assorbire nuove luci ad ogni pagina, ad ogni scatto. Anche il formato di questo libro, ha un suo senso, una sua motivazione, quella di poterlo portare con sé come fosse un quaderno di appunti, dove parte sono presi e dove parte possono essere scritti, disegnati, attaccati, scarabocchiati. Ecco il motivo dello spazio ampio ai bordi e delle pagine per gli appunti alla fine. Questo vuol essere a tutti gli effetti un compagno di viaggio come lo è stato il taccuino della Moleskine per tanti di noi. Non tenetelo da parte o su uno scaffale, ma portatelo con voi, scriveteci, sottolineate, prendete appunti, fategli le "orecchiette" sui bordi delle pagine, mettete post-it, sporcatelo con il caffè o con le dita unte di patatine, nutritevene e arricchitelo. (Forse questo è possibile solo con la versione cartacea, peccato). Troverete non solo appunti e spiegazioni di come e perché si scatta una fotografia, ma tanti appunti, note e considerazioni. Citazioni e stralci di libri che hanno un nesso inscindibile con la percezione dello spazio e del mondo attraverso i nostri occhi e la nostra mente. Aprite la vostra anima e tornate a essere bambini, leggete con la curiosità del fanciullo e non con il preconcetto degli adulti. Ovviamente questo è squisitamente un consiglio, non sentitevi privati del diritto di usare il vostro bagaglio, di essere adulti, anche questa è una scelta come tutto ciò che farete nel vostro "viaggio con la fotografia".
If you like this release please support Developer / Publisher and BUY it.
If you'll find that my links are dead please let me know through the Private Messages.
Please DO NOT MIRROR

&g... Blog Here <<<