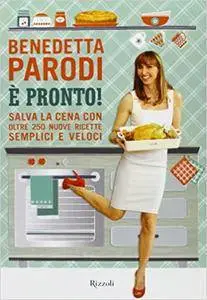 Benedetta Parodi - È pronto! Salva la cena con oltre 250 nuove ricette semplici e veloci (2014)
Italiano | 2014 | ISBN: 8817077526 | 359 Pagine | EPUB/PDF | 89.9/102 MB
Sempre occupati a districarci tra mille impegni - casa, famiglia, lavoro, imprevisti - quante volte abbiamo cenato a base di pasta in bianco e tonno in scatola perché non avevamo proprio il tempo per preparare niente di meglio? Quante volte, stanchi di questi menù deprimenti, avremmo voluto lanciare un SOS che arrivasse alle orecchie giuste, a un ideale "pronto soccorso cena" che facesse comparire in tavola pranzi degni di questo nome, sani e gustosi nel tempo di uno schiocco di dita? Finalmente il segnale di allarme è arrivato a destinazione: Benedetta Parodi ha inventato per noi le perfette ricette "salvacena", ovvero quelle che in 15 minuti ci permettono di preparare piatti semplici ma buonissimi e - perché no - anche di grande effetto. Ma Benedetta ha pensato anche a chi di tempo ne ha un po' di più e ha dato vita a un manuale di facile consultazione che va incontro a ogni esigenza, organizzato in modo che sia sempre comodo trovare ciò che si cerca. Gli antipasti, i primi, i secondi e i dolci sono ordinati per tempo di realizzazione: da quelli che si preparano in un quarto d'ora, ai piatti da 30 minuti, fino a quelli un po' più elaborati da fare quando si ha più di mezz'ora a disposizione. E grazie ai ricchissimi indici degli ingredienti, delle portate e dei tempi di preparazione ci vorrà un attimo per trovare la ricetta che fa al caso nostro. E Benedetta non si è fermata qui: per la prima volta, infatti, tutte le ricette sono illustrate da fotografie scattate da lei.
If you like this release please support Developer / Publisher and BUY it.
If you'll find that my links are dead please let me know through the Private Messages.
Please DO NOT MIRROR

&g... Blog Here <<<