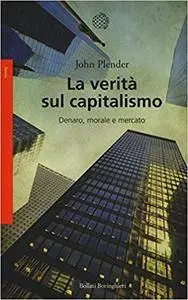 John Plender - La verità sul capitalismo. Denaro, morale e mercato (2016)
Italian | Bollati Boringhieri | 2016 | PDF/EPUB | Pages 475 | ASIN: B01FFP6NTG | 12 MB
«La verità sul capitalismo riesce a mettere in luce i fattori fondamentali dell'attuale economia globalizzata più di qualsiasi altro libro io abbia mai letto… una meraviglia».Tim Montgomerie, «The Times»Storicamente, il capitalismo è stato oggetto di una diffusa e radicata ostilità. Eppure, nel corso della sua ormai lunga storia, ha indubbiamente sollevato dalla miseria molti milioni di persone: in Occidente, grazie alla deprecata economia di mercato, il benessere è costantemente cresciuto e, in Oriente, i paesi emergenti hanno conosciuto negli ultimi decenni uno straordinario sviluppo economico che ha finito per trascinare il mondo intero verso una sempre maggiore prosperità.Eppure, nonostante tutto, il capitalismo continua a essere messo in discussione. Ci sono gli insoddisfatti, gli oppositori moderati, i critici radicali e i nemici giurati, in tutte le molteplici declinazioni, ma in genere quando si pensa al capitalismo non si pensa certo a qualcosa di buono. Denaro e morale difficilmente vanno a braccetto nell'immaginario collettivo.John Plender, notissimo e stimatissimo giornalista del «Financial Times», esplora i paradossi e le insidie di questo sistema economico straordinariamente dinamico, e lo fa partendo da lontano, dalle sue origini nella Venezia mercantile medievale, fino alle bolle speculative del XXI secolo, nelle quali siamo tutt'ora immersi. Lungo il viaggio – scritto con prosa avvincente e facile da seguire –, incontriamo tutti i momenti chiave della storia del capitalismo, come ad esempio la strana vicenda della prima bolla finanziaria della storia – quella dei tulipani nell'Olanda del Seicento – le speculazioni nel mondo dell'arte contemporanea, fino alla complessa e recentissima crisi dei mutui subprime di cui ancora oggi i mercati mondiali pagano le conseguenze.
If you like this release please support Developer / Publisher and BUY it.
If you'll find that my links are dead please let me know through the Private Messages.
Please DO NOT MIRROR

&g... Blog Here <<<