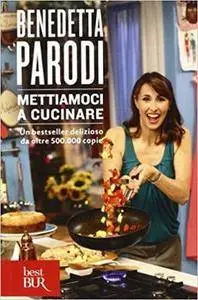 Benedetta Parodi - Mettiamoci a cucinare (2012)
Italian | Rizzoli | True PDF | 378 Pages | ISBN: 8817060967 | 2012 | 21 MB
Ci sono giorni in cui gli amici si presentano all'improvviso e tu sei appena rientrata da lavoro-palestra-supermercato. Ci sono giorni in cui hai voglia di casa, giorni nei quali stare ai fornelli è un momento di relax e una coccola per chi si ama. Ci sono giorni in cui ti prudono le mani e ti vien voglia di dimostrare cosa sai fare, e così entri in cucina certa che riuscirai a stupire tutti. È pensando a questi stati d'animo che Benedetta ha avuto l'idea di questo libro, nel quale le ricette sono suddivise in tre sezioni: "Oggi ho poco tempo", "Oggi mi impegno", "Oggi voglio stupire". Le pagine sono inoltre arricchite con ricette fotografate step by step, tavole a tema (e i menù perfetti da abbinare), piatti adatti a vegetariani, intolleranti al glutine e alle uova, indicazioni dei tempi di preparazione. L'autrice prosegue il dialogo intimo costruito negli ultimi anni con il suo pubblico e, anche nelle pagine colorate di questo volume, continua a condividere aneddoti di vita personale, episodi divertenti ed esperienze di successi (ma a volte anche utilissimi insuccessi) culinari.
If you like this release please support Developer / Publisher and BUY it.
If you'll find that my links are dead please let me know through the Private Messages.
Please DO NOT MIRROR

&g... Blog Here <<<