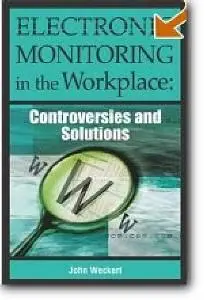 John Weckert (Editor), «Electronic Monitoring in the Workplace: Controversies and Solutions»
Idea Group Publishing | ISBN 1591404568 | 2005 Year | CHM | 0,67 Mb | 322 Pages
The use of new technologies, coupled with the fact that there is an increasing amount of work being done on-line, whether on the Internet, intranets, LANs or other networks, has made extensive employee monitoring by employers inexpensive and easy. Employers have legitimate concerns about the efficiency of their employees, of the quality of the goods or services produced, and in relation to security. Additionally, monitoring can assist in employee health and safety, help reduce or eliminate sexual, racial and other forms of harassment, reveal areas in which training is required, and reduce the potential for crime, corruption, and other illegal activities. There is rising concern about the rights of employees, especially with respect to their rights to privacy, but also, for example, with respect to questions of justice and employee autonomy and dignity, to the legitimacy of some informed consent, to respect for employees as persons, and to trust. Clearly there are conflicting rights and interests. Ways need to be found to resolve these conflicts in a manner that is fair to all. This book contributes to the debate and will point the way toward some solutions. The contributors come from a variety of disciplines, countries, and cultures, and so bring a wide range of perspectives to the issues.