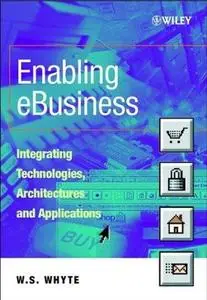 W. S. Whyte, «Enabling eBusiness – Integrating Technologies Architectures & Applications»
John Wiley & Sons | ISBN 0471899410 | 2001-07-13 Year | PDF | 3 Mb | 432 Pages
info:
/
http://www.amazon.com/exec/obidos/ASIN/0471899410
Summary:
This book describes the technical architecture and components that can be integrated in order to provide a comprehensive and robust infrastructure on which to build successful e-Business. It is essential reading for technical and functional team leaders and strategists, who analyse the options, limitations and possibilities for new technology and place them alongside the business requirements. Whyte intends to broaden the knowledge of specialists in computing, telecommunications, internet and electronic business. He also introduces the underlying business and technical principals of e business and how they interrelate to the undergraduates and postgraduate level at technical business units.
· Covers relevant and ever increasingly important issues such as security and business data processing.
· Bridges the gap between the fundamentals and the broader business models of e-business
· Detailed coverage of the functional architectures and technology
· Includes the technologies and techniques of on-line customer service, support and maintenance
The combination of both strategic and technical information in this text make it a valuable reference resource for telecommunication managers, e-business project leaders and final year and postgraduate students in computer science, electrical engineering and telecommunication courses and technical business units.
Thanks to kfman1
http://rapidshare.de/files/26696199/Enabling.eBusiness_0471899410.pdf