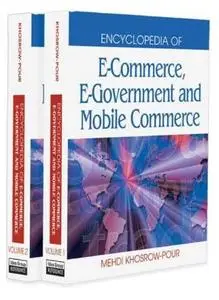 Mehdi Khosrow-Pour, «Encyclopedia of E-Commerce, E-Government, and Mobile Commerce»
Idea Group Reference | ISBN 1591407990 | March 2006 | PDF | 1350 Pages | 22,0 Mb (Uncompressed)
The
Encyclopedia of E-Commerce, E-Government, and Mobile Commerce
provides the most inclusive and up-to-date coverage of the e-technologies field. This two-volume encyclopedia includes quality contributions highlighting current concepts, trends, challenges, applications, and dot.com experiences in the field of e-commerce, e-government, and mobile commerce. With over 200 contributions from more than 300 experts and researchers worldwide, and extensive reference sections which list 4,400 additional research works, this encyclopedia stands as the most comprehensive, research-based encyclopedia in the ever-evolving field of e-commerce, e-government and mobile commerce.
Key Features:
Authoritative contributions by over 300 of the world's leading experts
A single source for comprehensive information on an expansive field
In-depth description of more than 1,400 key issues, terms, and concepts
More than 4,400 comprehensive references on existing literature and research on e-technologies
Organized by topic and indexed, making it a convenient method of reference for all IT/IS scholars and professionals
Cross-referencing of key terms, figures, and information pertinent to e-technologies
175 tables and more than 300 figures with detailed illustrations
Free online access for libraries for life of the edition with the purchase of a print copy
About the Author
Mehdi Khosrow-Pour
, D.B.A. is currently the Executive Director of the Information Resources Management Association (IRMA). Previously, he served on the faculty of the Pennsylvania State University as a professor of Information Systems for twenty years. He has written or edited over twenty books in Information Technology Management and he is also the editor-in-chief of the Information Resources Management Journal, Journal of Cases on Information Technology, Journal of Electronic Commerce in Organizations, and International Journal of Cases on Electronic Commerce.
Download Part 1
Download Part 2
Download Part 3