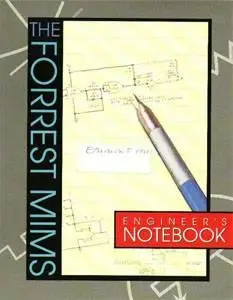 Forest Mim's Engineer's Notebook
ISBN: 1878707035
Year: 1992
Softcover: 165 pages
Publisher: HighText
Language: English
Size: 9.24 Mb
Format: pdf
This book starts where Mims previous "Getting started in electronics" leaves off. this book is not a rehashing of his mini notebooks but is a serious effort to present the reader with many options and alternatives to his previous work. Mims gives great detail to areas that he just touched on before. My best advice is get and study "Getting started…" and then move into this book.
This book will help both electrical and computer engineers generate ideas to build circuits.
It is a goldmine if integrated circuit applications and ideas!
Download:
http://rapidshare.de/files/26585047/ForMiEngiNot-1878707035.rar
Pass: gNKybK46vJio98
+++Previous Releases+++
Getting Started in Electronics
http://rapidshare.de/files/26374438/GeStarInEle-.rar
My previous Engineer's Mini-Notebook releases:
Optoelectronics Circuits:
http://rapidshare.de/files/15197455/OptoelCirc.rar
Digital Logic Circuits:
http://rapidshare.de/files/15379000/Dig_LogCir-B00072NRHY.rar
555 Timer IC Circuits:
http://rapidshare.de/files/15858268/555TimICCir.rar
Communications Projects:
http://rapidshare.de/files/15942008/ComProj.rar
Op Amp IC Circuits:
http://rapidshare.de/files/16768991/OpAmCir-B000DZG196.rar
Basic Semiconductor Circuits:
http://rapidshare.de/files/17309342/BasSemCir-B00072NRHO.rar
Schematic Symbols, Device Packages, Design and Testing:
http://rapidshare.de/files/17309802/SchSymDevPacDesTes-B00073AMXA.rar
Magnet and Sensor Projects:
http://rapidshare.de/files/17310907/MagSenProj.rar
Environmental Projects:
http://rapidshare.de/files/17311315/EnviProj.rar
Sensor Projects:
http://rapidshare.de/files/17311459/SensProj.rar
Solar Cell Projects:
http://rapidshare.de/files/17311733/SolCellProj.rar
Science Projects
http://rapidshare.de/files/17305423/SciProj.rar
The password for ALL links is: gNKybK46vJio98