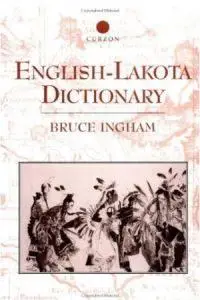 Bruce Ingham, "English-Lakota Dictionary"
Routledge | ISBN: 0700713786 | 2001 | PDF | 285 pages | 18 MB
This book is the best English-Lakota dictionary available, and the easiest to use. Most reliable, and most attractively produced of any of the Sioux dictionaries.
The Lakota language is estimated to be spoken by 20,000 people mainly in the states of North and South Dakota. It is reckoned to be the second largest native language in the US after Navaho. This dictionary of 12,000 entries aims to preserve Indian culture and at all points illustrate the use of words in examples, especially syntactic words, whose usage cannot be captured purely by giving an English equivalent. It provides depth as regards the usage of frequently occurring items and especially in the use of syntactic elements and usage in context. The data-base for the dictionary is the various books written in Lakota, recorded Lakota texts in archives, textbooks on the language, previous dictionaries, ethnographic and anthropological studies which include Lakota texts, and, importantly, recordings which the author has acquired. An introduction contains the phonetics, the grammar and the history of Lakota.
Download:
http://rapidshare.de/files/25746637/ild.ZIP.html