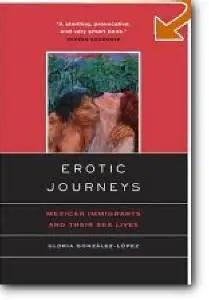 Gloria Gonzalez-Lopez, «Erotic Journeys: Mexican Immigrants and Their Sex Lives»
University of California Press | ISBN 0520231392 | 2005 Year | PDF | 1,2 Mb | 331 Pages
Erotic Journeys is a fascinating, revealing, and respectful examination of the romantic relationships and sex lives of the fastest-growing minority group in the nation. In a series of in-depth interviews, Gloria González-López investigates the ways in which sixty heterosexual Mexican women and men living in Los Angeles reinvent their sex lives as part of their immigration and settlement experiences. Defying a broad spectrum of preconceived notions, these immigrants confirm in their vivid narratives that sexuality–far from being culturally determined–is fluid and complex.
González-López explains that these Mexicans enter the United States with particular sexual ideologies and practices that, while diverse, are regulated by family ethics and regional patriarchies. After migration, a range of factors–including employment, the risks and dangers of resettlement, social networking with other immigrants, and the new demands of a fast-paced industrialized metropolis–begin to transform the immigrants' intimate lives in deep and unexpected ways. The remarkably candid interviews show that these men and women are skillful negotiating agents of their own sexuality. The author's incisive analysis of their narratives sets the stage for a nuanced and compelling understanding of this complex topic and its many social implications.