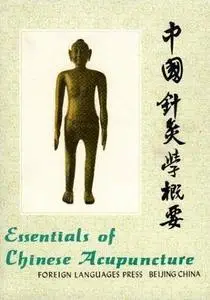 Author: Beijing College of Traditional Chinese Medicine Shanghai College of Traditional Chinese Medicine,
«Essentials of Chinese Acupuncture»
Publisher: Foreign Language Press, Beijing | ISBN: 7119002406 | Language: English | PDF | 432 Pages | 19 Mb
The textbook for the introductory course in Beijing, Shanghai, and Nanking International Acupuncture Training Centers since 1979. Over the years when it has been in use, its clear and simple presentation has proved invaluable in the teaching of non-Chinese doctors. Presented in an easily understandable form, it is applicable to those who are just beginning their studies of acupuncture and moxibustion.
A Short Table of Contents:
Part I A General Description of the Basic Knowledge of Traditional Chinese Medicine YIN-YANG AND THE FIVE ELEMENTS YIN-YANG THE FIVE ELEMENTS
# ZANG-FU (INTERNAL ORGANS) THE ZANG ORGANS FU ORGANS EXTRAORDINARY ORGANS
# CHANNELSAND COLLATERALS NOMENCLATURE AND CLASSIFICATION FUNCTIONS OF CHANNELS AND COLLATERALS
# QI, BLOOD AND BODY FLUID QI BLOOD BODY FLUID
# ETIOLOGY SIX EXOGENOUS FACTORS SEVEN EMOTIONAL FACTORS MISCELLANEOUS PATHOGENIC FACTORS
# METHODS OF DIAGNOSIS INSPECTION AUSCULTATION AND OLFACTION INQUIRING PALPATION
# DIFFERENTIATION OF SYNDROMES DIFFERENTIATION OF SYNDROMES ACCORDING TO EIGHT PRINCIPLES DIFFERENTIATION OF SYNDROMES ACCORDING TO THE THEORY OF ZANG-FU DIFFERENTIATION OF SYNDROMES ACCORDING TO THE THEORY OF CHANNELS AND COLLATERALS
PART II Channels, Collaterals and Points
# AN INTRODUCTION TO CHANNELS, COLLATERALS AND POINTS DISTRIBUTION IF THE 14 CHANNELS ON THE BODY SURFACE CLASSIFICATION OF POINTS SPECIFIC POINTS METHODS OF LOCATING POINTS AN OUTLINE OF THE THERAPEUTIC PROPERTIES OF THE POINTS OF THE 14 CHANNELS
# THE 12 REGULAR CHANNELS AND THEIR POINTS THE LUNG CHANNEL OF HAND-TAIYIN THE LARGE INTESTINE CHANNEL OF HAND-YANGMING THE STOMACH CHANNEL OF FOOT-YANGMING THE SPLEEN CHANNEL OF FOOT-TAIYIN THE HEART CHANNEL OF HAND-SHAOYIN THE SMALL INTESTINE CHANNEL OF HAND-TAIYANG THE URINARY BLADDER CHANNEL OF FOOT-TAIYANG THE KIDNEY CHANNEL OF FOOT-SHAOYIN THE PERICARDIUM CHANNEL OF HAND-JUEYIN THE SANJIAO CHANNEL OF HAND-SHAOYANG THE GALL BLADDER CHANNEL OF FOOT-SHAOYANG THE LIVER CHANNEL OF FOOT-JUEYIN
# THE EIGHT EXTRA CHANNELS AND THEIR POINTS THE DU CHANNEL THE REN CHANNEL THE CHONG CHANNEL THE DAI CHANNEL THE YANGQIAO CHANNEL THE YINQIAO CHANNEL THE YANGWEI CHANNEL THE YINWEI CHANNEL EXTRAORDINARY POINTS
PART III Acupuncture and Moxibustion Therapy
# TECHNIQUE OF ACUPUNCTURE AND MOXIBUSTION MANIPULATION OF THE FILIFORM NEEDLE OTHER ACUPUNCTURE METHODS MOXIBUSTION CUPPING
# A GENERAL INTRODUCTION TO ACUPUNCTURE TREATMENT BASIC PRINCIPLES OF TREATMENT ACCORDING TO DIFFERENTIATION OF PATHOLOGICAL CONDITIONS THE BASIC PRINCIPLE GOVERNING PRESCRIPTION AND COMBINATION OF POINTS THE APPLICATION OF SPECIFIC POINTS
# TREATMENT OF COMMON DISEASES WITH ACUPUNCTURE AND MOXIBUSTION WINDSTROKE (APOPLEXY) - SYNCOPE - HEADACHE - TRIGEMINAL NEURALGIA - DIZZINESS AND VERTIGO - FACIAL PARALYSIS - SUNSTROKE - MALARIA THE COMMON COLD - COUGH - ASTHMA - INSOMNIA - PALAPITATION, ANXIETY - DEPRESSIVE AND MANIC MENTAL DISORDERS - VOMITING - HICCUP - EPIGASTRIC PAIN - ABDOMINAL PAIN - DIARRHEA - DYSENTERY - JAUNDICE - HYPOCHONDRIAC PAIN - LOW BACK PAIN - EDEMA - NOCTURNAL ENURESIS - RETENTION OF URINE - SEMINAL EMISSION - IMPOTENCE - BI SYNDROMES (PAINFUL JOINTS) - WEI SYNDROME (PARALYSIS) - HYSTERIA - AMENORRHEA - DYSMENORRHEA - UTERINE HEMORRHAGE - LEUKORRHEA - MORNING SICKNESS - LACTATION INSUFFICIENCY - INFANTILE DIARRHEA - MUMPS - URTICARIA - ERYSIPELAS - HERPES ZOSTER - FURUNCLE AND LYMPHANGITIS - ACUTE MASTITIS - APPENDICITIS - GOITER - SPRAIN - DEAFNESS AND TINNITUS - CONGESTION, SWELLING AND PAIN OF THE EYE - RHINORRHEA - EPISTAXIS - TOOTHACKE - SORE THROAT
# EAR ACUPUNCTURE THERAPY RELATIONS BETWEEN THE AURICLE AND CHANNELS, COLLATERALS AND ZANG-FU ORGANS ANATOMICAL STRUCTURE OF THE SURFACE OF THE AURICLE AURICULAR POINTS CLINICAL APPLICATION OF EAR ACUPUNCTURE
# A BRIEF INTRODUCTION TO ACUPUNCTURE ANALGESIA PRINCIPLES OF SELECTING POINTS FOR ACUPUNCTURE ANALGESIA MANIPULATION METHOD REMARKS SOME EXAMPLES OF SELECTING POINTS FOR ACUPUNCTURE ANALGESIA