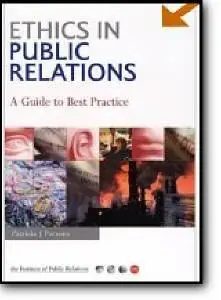 Patricia J. Parsons, «Ethics in Public Relations : A Guide to Best Practice»
Kogan Page | ISBN 074944276X | 2004 Year | CHM | 0,77 Mb | 187 Pages
Ethical questions and dilemmas are inherent to public relations, and ensuring that practitioners operate ethically is fundamental to the professionalism and credibility of the field. Ethics in Public Relation gives readers the tools and knowledge to enable them to make defensible decisions, and outlines the important ethical concerns in public relations and corporate communications.

Written in a practical and approachable style, this is not another 'tome' on ethical theory but rather a clear insight into the personal and professional issues that affect public relations practitioners. It examines how an individual's sense of morality has an impact on decision-making and ethical business behaviour. Overall, the purpose of Ethics in Public Relation is threefold:

- to provide a framework for understanding important ethical issues in public relations and corporate communications now and in the future
- to help develop an attitude that supports the concept that ethics are key to professionalism and credibility in the field
- to assist in everyday ethical decision-making

Written by a leading academic in the field, this practical and engaging title is a must-have for any public relations practitioner or student who wants a framework that relates underlying ethical theories to everyday issues.