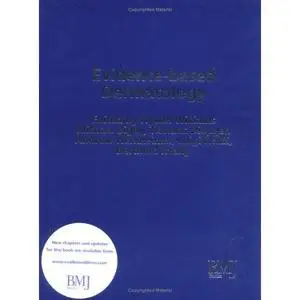 Michael Bigby (Editor), Thomas Diepgen (Editor), Naldi (Editor), Hywel Williams (Editor), Andrew Herxheimer (Editor),
«Evidence Based Dermatology»
BMJ Publishing Group | ISBN: 0727914421 | April 2003 | 704 Pages | PDF | 24 Mb
Associate editor, Michael Bigby, is with Harvard Medical School, Boston, MA. Covers the concept of evidence-based dermatology, the critical appraisal toolbox, common inflammatory skin diseases, infestations, cancer, hair problems, infectious skin diseases, and more. Key points and color illustrations are included.
This is a book about using the best evidence to inform treatment decisions for people with skin disease. It is written by dermatologists for dermatologists, using examples throughout to illustrate key points. The book starts off with a toolbox section, written in a way which will help those relatively new to the principles of evidence-based dermatology to understand the key issues, and equip them with the basics of how to tell a good study from a bad one. The majority of the book then deals with an evidence-based summary of the common and important skin diseases in a structured and easy to read format around common patient scenarios. Whilst most of the evidence is based on randomised controlled trials, other studies are cited where appropriate eg when discussing adverse events. The unique accompanying book website will contain updates of new chapters and studies as they become available.