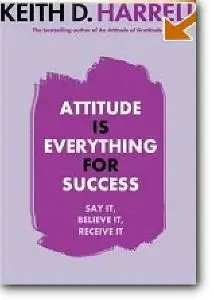 Keith Harrell, «Attitude Is Everything for Success»
Hay House | ISBN 1401902014 | 2004 Year | CHM | 0,15 Mb | 240 Pages
Everyone desires success and is capable of achieving it. Having what you truly desire begins with adopting a winning attitude. By positively channeling your attitude and thoughts, using empowering language, and taking action, you'll be sufficiently equipped to successfully accomplish any goal. Attitude Is Everything for Success contains morsels of wisdom and easy-to- learn tools to help you along your journey.
The key to your success is your attitude for it determines the quality of your life. For 40 consecutive days, start and end each day with one of the 40 key words for successful living and be amazed at the results. Or when you find yourself feeling rushed and needing to focus your thoughts, flip to a word and gain inspiration and encouragement as you repeat the affirmations, meditate on the quotes, reflect on the anecdotes, and act on the directives that accompany each word. Attitude Is Everything for Success is designed to reprogram your attitude, lift your spirits, and keep you on course.