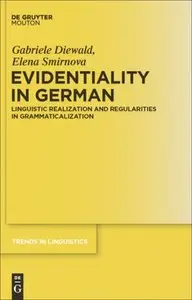 Evidentiality in German: Linguistic Realization and Regularities in Grammaticalization
(Trends in Linguistics. Studies and Monographs)
Publisher: De Gruyter Mouton | 2010 | ISBN: 3110240696 | English/German | True PDF | 366 pages | 1.56 Mb
The book is a comprehensive study of the evidential system in German. It focuses on the constructions scheinen ´;seem´, drohen ´;threaten´, versprechen ´;promise´ + zu-infinitive,and werden ´;become´ + infinitive. The main idea is that with the diachronic development of these constructions we are witnessing the genesis of a new grammatical category in German.