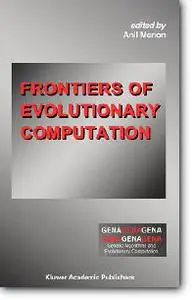 Anil Menon (Editor), «Frontiers of Evolutionary Computation»
Springer | ISBN 1402075243 | 2004 Year | PDF | 2,98 Mb | 272 Pages
Frontiers of Evolutionary Computation brings together eleven contributions by international leading researchers discussing what significant issues still remain unresolved in the field of Evolutionary Computation (EC). They explore such topics as the role of building blocks, the balancing of exploration with exploitation, the modeling of EC algorithms, the connection with optimization theory and the role of EC as a meta-heuristic method, to name a few. The articles feature a mixture of informal discussion interspersed with formal statements, thus providing the reader an opportunity to observe a wide range of EC problems from the investigative perspective of world-renowned researchers. These prominent researchers include:
-Heinz Mühlenbein,
-Kenneth De Jong,
-Carlos Cotta and Pablo Moscato,
-Lee Altenberg,
-Gary A. Kochenberger, Fred Glover, Bahram Alidaee and Cesar Rego,
-William G. Macready,
-Christopher R. Stephens and Riccardo Poli,
-Lothar M. Schmitt,
-John R. Koza, Matthew J. Street and Martin A. Keane,
-Vivek Balaraman,
-Wolfgang Banzhaf and Julian Miller.

Frontiers of Evolutionary Computation is ideal for researchers and students who want to follow the process of EC problem-solving and for those who want to consider what frontiers still await their exploration.
Password
:
www.AvaxHome.ru
Download from Rapidshare
Бонус | Bonus
My other uploaded eBooks (1400+) - links and descriptions
Другие книги, закаченные мной (более 1400) - ссылки и библиографические данные
version 5 (April 07 2006)
Download eBooks list from Mytempdir
Download eBooks list from Rapidshare
Please about the dead Rapidshare links send me the message
Пожалуйста отправляйте мне сообщение об убитых ссылках на Рапидшаре