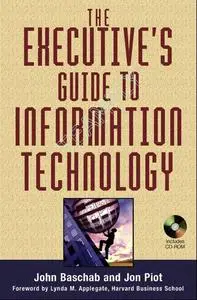 Executive's Guide to Information Technology
By
John Baschab, Jon Piot
Foreward by Lynda M. Applegate
Henry R. Byers Professor of Business Administration
Harward Business School

Book Description
The reader will gain valuable skills, including:
•Understanding the main sources ofwasted IT dollars and identifying specific areas where IT managers can reduce costs.
•Identifying the industry average IT spending.
•Identifying the main management areas ofa successful IT operation.
•Distinguishing the businessofmanagingITfromthe technical aspects.
•Understanding symptoms and sources ofIT department inefficiencies.
•Learning critical improvement steps in each ofthe main IT management areas.
•Learning how to make better decisions in technology direction setting, project management, human resources management, risk management, and technology strategy setting.
In addition, consultants can build new consulting services for companies who are in need ofthese practices and cost reductions; they will be able to propose additional engagements and services to clients based on the techniques they learn in this book, as well as bring new thinking to existing proj- ects. Companies can attain higher utilization from their existing IT assets and avoid unnecessary IT expenditures in the future. CEOs and CFOs can gain a better understanding ofhow to work with their top IT executives.
Contents
Part I:The Effective IT Organization
The IT Dilemma
Sources and Causes of IT Ineffectiveness
Information Technology Costs
Part II:Managing the IT Department
The IT Organization
The IT Director
IT Direction and Standard Se
IT Operations
Application Management
IT Human Resource Practices
Vendor Selection
Vendor Management
Part III:Senior Executive IT Management
Working with the Business
IT Budgeting and Cost Management
Effective Decision Making and Risk Management
IT Demand Management and Project Prioritization
IT Performance Measurement
IT Steering Committee
Appendix:IT Toolkit