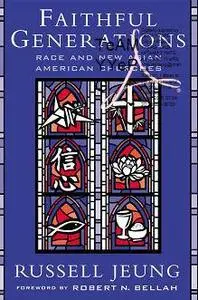 Russell Jeung, Robert N. Bellah, «Faithful Generations: Race and New Asian American Churches»
Rutgers University Press | ISBN 0813535026 | 2004 Year | PDF | 1,45 Mb | 216 Pages
The changing configuration of American society, at once the most secular and the most religious of all the advanced industrial societies, is full of surprises. A society that has "absorbed" immigrants more successfully than most comparable nations also continues to view people in racial categories. Some doors are opened while others are closed. If assimilation means rapid appropriation of English, and concomitant loss of the immigrants' original language in two or three generations, together with the affirmation of dominant patterns of lifestyle and career in a society that values upward mobility above almost anything else, then no group has failed to be "assimilated." But if assimilation means full acceptance without stereotypical pigeonholing, then, for all immigrant groups, but particularly for those who appear racially different, the process is slow if it occurs at all. Asian Americans seem to exhibit what might be called marginalization of the similar. The very characterization of them as a "model minority" is demeaning, as it denies difference while at the same time affirming it.
In the face of these peculiar but persistent characteristics of the American pattern, ethnic and racial minorities in America have adopted a variety of strategies. One minority that may be closer to Asian Americans than many, surprising in that it is not a racial minority, is American Jews. Having apparently assimilated successfully to the American pattern of occupational success, Jews, only partially in response to lingering anti-Semitism, have persisted in affirming their cultural difference. In earlier days Jewish identity could be affirmed in secular as well as religious associations. Today Jews are faced with the reality that they will identify religiously or lose their separate identity altogether.
Though the situation of Jewish Americans is different from the situation of Asian Americans, the ability to retain cultural identity through religion, even when successfully assimilating in terms of social class, may make these cases interestingly comparable.