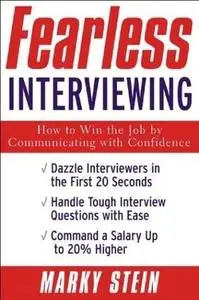 Marky Stein, «Fearless Interviewing: How to Win the Job by Communicating with Confidence»
McGraw-Hill | ISBN 0071408843 | December 2002 | PDF | 193 Pages | 1,20 Mb
A proactive new strategy for removing anxiety, and regaining control, throughout the job interview process "Marky Stein's book is wonderful. She gives us a thorough analysis of the whole interviewing process. Fearless Interviewing is clear, kind, and full of good advice….
Highly recommended." Barbara Sher, author of Live the Life That You Love A job interview is one of life's most stressful and challenging experiences.
Fearless Interviewing presents a strategic approach to interviewing, one that tips the scales back in favor of the job applicant. It provides useful advice on all aspects of the interviewing process, including how to: Dazzle interviewers in the first 20 seconds Handle tough interview questions with ease Command a salary up to 20 percent higher.
Download Here
Password:
spiderman