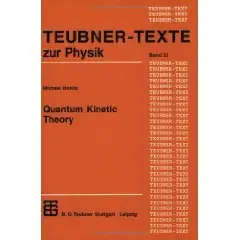 Quantum Kinetic Theory
B G Teubner | September 1, 1998 | ISBN-10: 3519002388 | 388 pages | PDF | 3.18 mb
ith the recent developments in femtosecond laser technology the bahavior of matter on ultra-short time scales is becoming of high interest. This includes coherent phenomena, the buildup of correlations and screening and the dynamics of bound state formation. The theoretical description of these nonequilibrium processes requires generalized kinetic equations. This book presents a very general and easy to understand approach to quantum kinetic theory and is addressed to graduate students und specialists in dense plasmas, semiconductors and nuclear matter as well. It covers in detail the basics of the density operator formalism (BBGKY-hierarchy, properties, conservation laws, representations, correlations etc.) and also recent developments in the field of non-Markovian quantum kinetic equations.
password: twilightzone