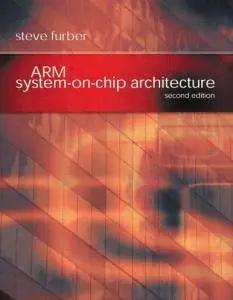 ARM System-on-Chip Architecture (2nd Edition) by Steve Furber
Publisher: Addison-Wesley Professional; 2 edition (August 25, 2000) | ISBN-10: 0201675196 | PDF | 17,5 Mb | 419 pages
The future of the computer and communications industries is converging on mobile information appliances - phones, PDAs, laptops and other devices. The ARM is at the heart of this trend, leading the way in system-on-chip (SoC) development and becoming the processor core of choice for many embedded applications. System-on-chip technology is changing the way we use computers, but it also sets designers the very challenging problem of getting a complex SoC design right first time. ARM System-on-Chip Architecture introduces the concepts and methodologies employed in designing a system-on-chip based around a microprocessor core, and in designing the core itself. Extensive illustrations, based on the ARM, give practical substance to the design principles set out in the book, reinforcing the reader's understanding of how and why SoCs and microprocessors are designed as they are.