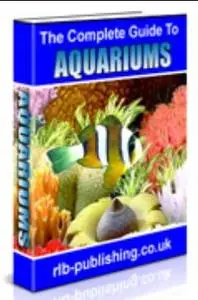 3 PDF ebooks:
"The Complete Guide to Aquariums", "Tropical Fish Secrets" and "A-Z Fish Diseases".
ISBN N/A | English | PDF | 2007 Year | 6 Mb | 176 Pages
The word aquarium originates from the ancient Latin language, "aqua" meaning water and the suffix "rium" meaning place or building. Aquariums are beautiful and look good anywhere!
Home aquariums are becoming more and more popular, it is a hobby that many people are flocking too and fish shops are on the rise. Fish are generally easy to keep although do they need quite a bit of attention. Puppies and kittens were the typical pet but now fish are becoming more and more frequent in house holds. In recent years fish shops have noticed a great increase in the rise of people wanting to purchase aquariums and fish, the boom has been great for local shops as the fish industry hasn't been such a great industry before now.
Home aquariums can be as small and simple as you like or they can be huge and intensive set ups that require hours each week of maintenance. A home aquarium can be a great experience for all the family and it is something that they can all join in, although keep the children away from the poisonous fish, and the fish waste!
==================================
"Tropical Fish Secrets"
Thinking of buying and taking care of Tropical fish and an aquarium then first read the amazing story of…
"How A Stressed Out Plumber Accidentally Stumbled Unto "Little Know Secrets" For Breeding And Caring For Tropical Fish and How You Too Can Learn His Secrets Of Building An Exotic Tropical Aquarium That Is Busting Full Of Beautiful Exotic Fish"
After You Learn These Secrets You Will Have All The Knowledge You Need To Care For Any Kind Of Tropical Fish In Any Kind Of Aquarium Guaranteed…
==================================
A-Z Fish Diseases
Fish disease-how to bullet proof your fish against disease
As a beginner in caring for tropical fish you need to know what disease plague your aquarium…for instance , as a beginner you might see your fish graying and think it was aging, but with this hot new e-book one look at the reference and you will note that "graying means illness" and not old age…Point is , the use of this book will ensure a very long lifespan of your tropical fish!
It covers the most common disease- how to identify them, how to cure your fish…nothing is left to chance …You will not need to visit a vet…you will save hundreds of dollars in the long run having this book…it is priceless.
I will even show you how to get rid of dead fish if it is too late…In short with this book you will know all the diseases and symptoms that could affect your fish (and how to disease proof your tropical fish.
==================================
Downloads:
The Complete Guide to Aquariums:
http://rapidshare.com/files/17977002/The_Complete_Guide_to_Aquariums.rar
Tropical Fish Secrets:
http://rapidshare.com/files/17977069/Tropical_Fish_Secrets.rar
A-Z Fish Diseases:
http://rapidshare.com/files/17976934/A-Z_Fish_Diseases.rar