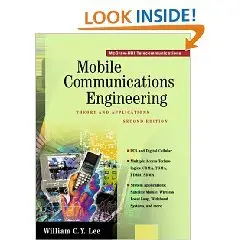 Mobile Communications Engineering: Theory and Applications
McGraw-Hill Professional | October 1, 1997 | ISBN: 0070371032 | 689 pages | PDF | 6 mb
From one of the field's foremost educators, here is the classic guide to mobile communication–fully revised for the 1990s and beyond. It is unique because it shows readers how to understand the differences in applying technologies between wireline communications and wireless communications. The new second edition extensively updates the basics. It also coves traffic and capacity analysis on mobile communications networks and addresses rapidly expanding new technologies, such as digital cellular, PCS, and multiple access techniques not only including FDMA, TDMA, CDMA, and SDMA, but also applying the techniques on the virtual channels.