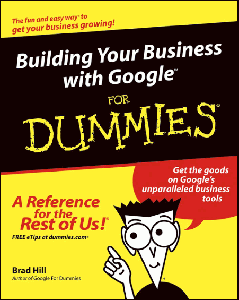 Building Your Business with Google For Dummies
Info
Product DetailsPages:
387
Publisher:
Wiley Publishing Inc
Published:
June 2004
Language:
English
ISBN:
0-7645-7143-5
Format:
PDF
Size:
9.25 MB
Description:
The first-ever book to show businesses step by step how to capitalize on advertising programs offered by Google, the world's #1 search engine, with more than 200 million search queries per day
Written by a veteran For Dummies author working in cooperation with Google, which will help support the book
From selecting the right keywords to crafting the right message, the book explains how to boost site traffic using AdWords, Google's hugely successful sponsored-link advertising program, which now has more than 150,000 advertisers
Also details how to make money with AdSense, a Google program that funnels relevant AdWords ads to other sites-and pays those sites whenever someone clicks on them
About the Author:Brad Hill
has worked in the online field since 1992 and is a preeminent advocate of the online experience. As a bestselling author of books and columns, Hill reaches a global audience of consumers who rely on his writings to help determine their online service choices.
Brad's books include a Publishers Weekly bestseller and a Book-of-the-Month Club catalog selection. Brad's titles in the For Dummies series include Internet Searching For Dummies, Google For Dummies, and Yahoo! For Dummies. In other venues, Brad writes about cybercultural trends, digital music, virtual investing, and all sorts of online destinations. He is often consulted about the media's coverage of the Internet. He appears on television, radio, Webcasts, and is quoted in publications such as Business Week, The New York Times, USA Today, and PC World.
Brad is a staff blogger at Weblogs Inc. (
www.weblogsinc.com
), where he runs the Search Engine Marketing weblog (SEM.weblogsinc.com) and contributes to several others. He also operates The Digital Songstream (
www.Digital
Songstream.com), a news and review site for digital music. Brad's personal site (
www.bradhill.com
) describes all his current projects and provides an e-mail link.
Brad doesn't get outdoors much. Sunshine baffles him. As compensation, he is listed in Who's Who and is a member of The Authors Guild.
Table of Contents:
Introduction.
Part I: Meeting the Other Side of Google.
Chapter 1: Meeting the Business Side of Google.
Chapter 2: Getting into Google.
Chapter 3: Building Your PageRank Through Networking.
Chapter 4: Optimizing a Site for Google.Chapter 5: Putting Google Search on Your Site.
Part II: Creating and Managing an AdWords Campaign.
Chapter 6: Introducing Search Advertising and Google AdWords.
Chapter 7: Designing Your AdWords Campaign and Starting an Account.
Chapter 8: Understanding AdWords Statistics and Reports.
Chapter 9: Creating Effective Ad Groups.
Chapter 10: Managing Ongoing Campaigns.
Part III: Creating Site Revenue with AdSense.
Chapter 11: Introducing the Google AdSense Program.
Chapter 12: Starting an AdSense Account and Publishing Ads.
Chapter 13: Enhancing Your AdSense Revenue.
Part IV: Google Business for the Larger Company.
Chapter 14: Getting into Froogle and Google Catalogs.
Chapter 15: Premium Services.
Part V: The Part of Tens.
Chapter 16: Ten Site Optimization Resources.
Chapter 17: Ten SEM and SEO Tips from the Pros.
Glossary.
Index.
Download @ RapidShare
Download @ MiHD.net