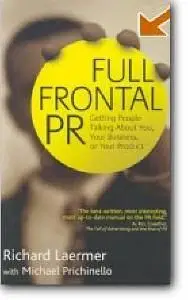 Richard Laermer, Michael Prichinello, «Full Frontal PR: Getting People Talking about You, Your Business, or Your Product»
Bloomberg Press | ISBN 1576600998 | 2003 Year | CHM | 0,42 Mb | 256 Pages
For a public relations professional, Laermer might have succeeded too well with this book: it could threaten to put firms like his own, RLM PR, out of business. After all, write Laermer and co-author Prichinello in this do-it-yourself guide for snaring publicity, the PR industry's dirty little secret is that "you can create the buzz factor yourself." Among the tips: adopt a media-friendly approach that cultivates friends rather than making enemies; use a host of tactics like embargoes, leaks, source filings and exclusives to your best advantage; and give yourself a leg up by knowing what time-pressed journalists are looking for and handing it to them on a platter. The authors bolster their case with examples of good and bad PR: e.g., how BigStar, an online movie retailer, spun its competition with Blockbuster into a David and Goliath tale, or how Kozmo.com's reliance on the media's love affair with its CEO compromised its ability to deliver on its promises. Some troubling references slip in (Laermer's own staffers watch the movies Wall Street and Boiler Room to get revved up for pitching journalists, and the authors admit "someone once told us that media people often dislike PR practitioners a lot"), but, that aside, this is a valuable road map to the land of buzz.