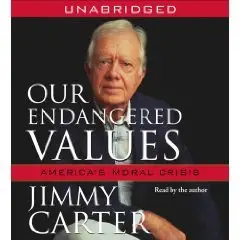 Our Endangered Values: America's Moral Crisis
Simon & Schuster Adult Publishing Group | November 2005 | ISBN: 0743284577 | 212 pages | PDF | 1.19 mb
After several books on spirituality and homespun values (most recently Sharing Good Times), President Carter turns his attention to the political arena. He is gravely concerned by recent trends in conservatism, many of which, he argues, stem from the religious right's openly political agenda. Criticizing Christian fundamentalists for their "rigidity, domination and exclusion," he suggests that their open hostility toward a range of sinners (including homosexuals and the federal judiciary) runs counter to America's legacy of democratic freedom. Carter speaks eloquently of how his own faith has shaped his moral vision and of how he has struggled to reconcile his own values with the Southern Baptist church's transformation under increasingly conservative leadership. He also makes resonant connections between religion and political activism, as when he points out that the Lord's Prayer is a call for "an end to political and economic injustice within worldly regimes." Too much of the book, however, is a scattershot catalogue of standard liberal gripes against the current administration. Throwing in everything from human rights abuses at Abu Ghraib to global warming, Carter spreads himself too thin over talking points that have already been covered extensively.