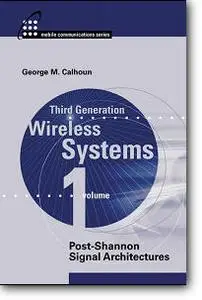 George Calhoun, «Third Generation Wireless Communications, Volume 1: Post Shannon Signal Architectures»
Artech House Publishers | ISBN 1580530435 | 2003 Year | PDF | 3,13 Mb | 514 Pages
This is a book about the technological foundations of the next generation of wireless networks, including the so-called third generation, or 3G, for the mobile Internet. It is a vast subject, encompassing a variety of new services, applications, and air interfaces. In this book I have focused on the lowest layers of the system: how the wireless information-bearing signal is constructed, and the choice of physical-layer transmission techniques and coding strategies capable of withstanding the extreme environment of the wirelesschannel.
I have tried to emphasize the general lines of technical development and core principles, rather than focusing on specific air interface standards. Underneath the wide variety of prospective technical solutions, there are a few common engineering challenges. The third generation and other new wireless standards must operate at much higher bit rates, and must deliver a much cleaner signal. Conventional approaches to managing the physical channel will not suffice. We are entering a new historical phase of intensive innovation,in which Ibelieve that wireless technology will again become the leading edge for communications engineering in general. This book is planned as the first of three or four related volumes on this next generation wireless. Subsequent volumes will deal with higher-level architectures designed to support multiple access in wireless networks, as well as the emerging suite of wireless applications (beyond voice) that will soon transform these networks into an infrastructure fortrue multimedia services.