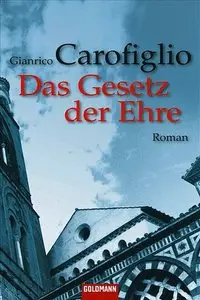 Gianrico Carofiglio - Das Gesetz der Ehre
Genre: Krimi, Thriller | Time: 07:13:44 | Publisher: Goldmann Verlag | ISBN: 3442311640 | 26. November 2007
Language: Deutsch | Audiobook in MP3 / 128 kbps | 409.35 MB
Beschreibung:
Als Avvocato Guerrieri seinem neuen Mandanten zum ersten Mal im Gefängnis begegnet, verschlägt es ihm den Atem: Denn vor ihm sitzt niemand anders als Fabio Paolicelli, der Intimfeind seiner Jugendtage. Aus dem gewaltbereiten Teenager, der als Rädelsführer einer Jugendgang in Bari von sich reden machte, ist mittlerweile ein braver Familienvater geworden. Mit dem vorgeworfenen Drogenschmuggel habe er nichts zu tun, beteuert er. Ob Guerrieri seinem Mandanten glauben kann, weiß er nicht. Seine Verwirrung steigert sich noch, als er Natsu kennenlernt, die schöne Ehefrau Paolicellis, zu der er sich sofort hingezogen fühlt. Weil Natsu seine Gefühle erwidert, steht Guerrieris Entschluss fest: Er wird Paolicelli verteidigen. Auch wenn er dabei alles andere als redliche Motive verfolgt …
Download Gianrico Carofiglio - Das Gesetz der Ehre:
filesonic.com
Pass: avaxhome.ws
Mehr Audiobucher von mir findet Ihr in
My Blog
If you'll find that my links are dead please let me know through the Private Messages.
Please DO NOT MIRROR