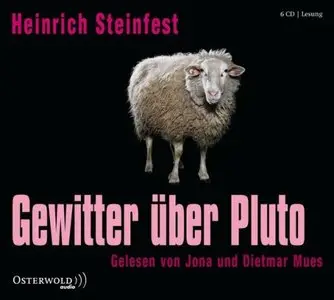 Heinrich Steinfest - Gewitter über Pluto
Genre: Roman | Time: 07:45:10 | Publisher: Osterwoldaudio | ISBN: 3869520043 | 16. September 2009
Language: Deutsch | Audiobook in MP3 / 192-320 kbps | 670.48 GB
Beschreibung:
Lorenz Mohn begreift im vierzigsten Jahr seines Lebens, dass er selbiges radikal ändern muss – und beendet seine Karriere als Porno-Darsteller. Inspiriert durch den Anblick einer Kollegin, die mit Vermeerscher Ruhe an einem Pullöverchen häkelt, eröffnet er einen Strickwarenladen. Geldgeberin ist die von Gerüchten umwehte Grande Dame der Wiener Unterwelt. Ihre einzige Bedingung für das zinslose Darlehen: es auf den Tag genau in sieben Jahren zurückzuzahlen oder aber an eben diesem 14. Juli 2015 ein Leben zu retten …
Download Heinrich Steinfest - Gewitter über Pluto:
uploaded.to
filesonic.com
Pass: avaxhome.ws
Mehr Audiobucher von mir findet Ihr in
My Blog
If you'll find that my links are dead please let me know through the Private Messages.
Please DO NOT MIRROR