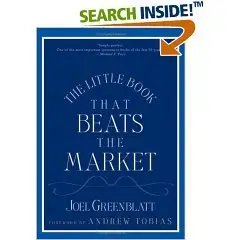 The Little Book that Beats the Market
Wiley | 2005 | ISBN10 0471733067 | 176 pages | PDF | 1.1MB
Contrary to efficient-market naysayers, this engaging investment primer contends that ordinary stock-market investors can indeed get better-than-market returns over the long haul. Greenblatt (You Can Be a Stock Market Genius), a Columbia Business School adjunct professor, touts a "value-oriented" approach that looks for bargain stocks whose share price is cheap relative to the company's profitability. His version is a "magic formula" that ranks stocks on the basis of two variables—the earnings yield and the business's return on capital. His Web site, magicformulainvesting.com, virtually automates the procedure for novices.