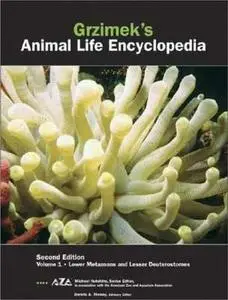 Grzimek's Animal Life Encyclopedia (Grzimek's Animal Life Encyclopeida)
Text: English (translation) | Original Language: German | 9000 pages | Publisher: Thomson Gale; 2nd edition (December 2003) | ISBN: 0787653624 | Filetype: PDF | Price: $1,935.00
This book is clearly the best zoological compilation that is available at the moment. Grzimek is one of the most renowned zoologists in the world, and his works were edited and supplied with material by today's highest-ranking zoologists. This 9000 page encyclopedia includes the following volumes:
v1 Lower Metazoans and Lesser Deuterostomes
v2 Insects
v3 Protostomes
v4-5 Fishes
v6 Amphibians
v7 Reptiles
v8-11 Birds
v12-16 Mammals
(v17) - Cumulative Index
Download
Rapidshare cut off all the file names except the last volume!!<br /><br />You will need to add the PDF extension after downloading!!
http://rapidshare.com/users/Z2TP4D/10
or
http://rapidshare.com/files/4723665/Thomson_Gale_-_2003_-_Grzimek_27s_Animal_Life_Encyclopedia__Edition_2_-_Volume_11_-_Birds_-_Part_4_-
http://rapidshare.com/files/4723650/Thomson_Gale_-_2003_-_Grzimek_27s_Animal_Life_Encyclopedia__Edition_2_-_Volume_14_-_Mammals_-_Part_3
http://rapidshare.com/files/4723643/Thomson_Gale_-_2003_-_Grzimek_27s_Animal_Life_Encyclopedia__Edition_2_-_Volume_13_-_Mammals_-_Part_2
http://rapidshare.com/files/4723641/Thomson_Gale_-_2003_-_Grzimek_27s_Animal_Life_Encyclopedia__Edition_2_-_Volume_06_-_Amphibians_-_ISB
http://rapidshare.com/files/4723640/Thomson_Gale_-_2003_-_Grzimek_27s_Animal_Life_Encyclopedia__Edition_2_-_Volume_07_-_Reptiles_-_ISBN_
http://rapidshare.com/files/4723636/Thomson_Gale_-_2003_-_Grzimek_27s_Animal_Life_Encyclopedia__Edition_2_-_Volume_03_-_Insects_-_ISBN_0
http://rapidshare.com/files/4723633/Thomson_Gale_-_2003_-_Grzimek_27s_Animal_Life_Encyclopedia__Edition_2_-_Volume_02.-.Protostomes.-.IS
http://rapidshare.com/files/4723601/Thomson_Gale_-_2003_-_Grzimek_27s_Animal_Life_Encyclopedia__Edition_2_-_Volume_05_-_Fishes_-_Part_2_
http://rapidshare.com/files/4723598/Thomson_Gale_-_2003_-_Grzimek_27s_Animal_Life_Encyclopedia__Edition_2_-_Volume_10_-_Birds_-_Part_3_-
http://rapidshare.com/files/4723597/Thomson_Gale_-_2003_-_Grzimek_27s_Animal_Life_Encyclopedia__Edition_2_-_Volume_04_-_Fishes_-_Part_1_
http://rapidshare.com/files/4723595/Thomson_Gale_-_2003_-_Grzimek_27s_Animal_Life_Encyclopedia__Edition_2_-_Volume_08_-_Birds_-_Part_1_-
http://rapidshare.com/files/4723594/Thomson_Gale_-_2003_-_Grzimek_27s_Animal_Life_Encyclopedia__Edition_2_-_Volume_09_-_Birds_-_Part_2_-
http://rapidshare.com/files/4723593/Thomson_Gale_-_2003_-_Grzimek_27s_Animal_Life_Encyclopedia__Edition_2_-_Volume_16_-_Mammals_-_Part_5
http://rapidshare.com/files/4723587/Thomson_Gale_-_2003_-_Grzimek_27s_Animal_Life_Encyclopedia__Edition_2_-_Volume_01_-_Lower_Metazoans_
http://rapidshare.com/files/4723585/Thomson_Gale_-_2003_-_Grzimek_27s_Animal_Life_Encyclopedia__Edition_2_-_Volume_15_-_Mammals_-_Part_4
http://rapidshare.com/files/4723580/Thomson_Gale_-_2003_-_Grzimek_27s_Animal_Life_Encyclopedia__Edition_2_-_Volume_12_-_Mammals_-_Part_1
http://rapidshare.com/files/4723579/Grzimek_27s_Animal_Life_Encyclopedia_2nd_Vol_17_Cumulative_Index.pdf
My collections:
eBooks-1
eBooks-2
Games
Graphics-1
Graphics-2
Musics-1
Musics-2
Softwares-1
Softwares-2