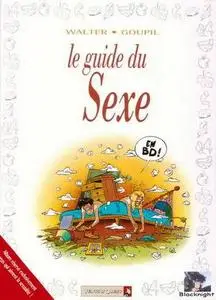 Tome 20 : Le guide du Sexe
Scénario/Scenario : Goupil, Jacky
Dessin/Drawing : Walter
Couleurs/colors : Robert, Jacky
Editeur/Editor : Vents d'Ouest
Catégorie/Category : Humour/humor
Dépot Légal/Official Layout : 11/2000
Langue/language : Français/French
Taille/Size : 21 Mo

Histoire du/Story of ''Le Guide du Sexe'' :

Tout, tout, tout, vous saurez tout sur le zizi. Le Guide du sexe est l'ouvrage indispensable pour tout savoir sur la bagatelle. Cours d'anatomie sexuelle, explication de l'attirance physique, les zones érogènes, les préparatifs et préliminaires, les fantasmes, les dessous féminins et plein d'autres choses encore. Que l'on soit une femme ou un homme, le sexe guide notre vie, il est le moteur de nos actes, et bien souvent la principale de nos préoccupations!

All, all, all, you will know everything on the willy. The Sex Guide is the essential comic book to know it all on the subject. Sexual anatomy course, explanation of physical attraction, the erotogenic zones, the preparations and preliminaries, the phantasms, the woman underwears and lots of other things still. That you be a woman or a man, sex guide our life, it is the engine of our acts, and very often the principal one of our concerns!

Download here/Télécharger ici
MDP : BDream

Bonne lecture/Enjoy.

Blacknight