At request. Reupload. Link was deleted.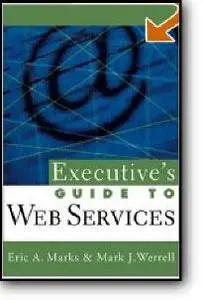 Eric A. Marks, Mark J. Werrell, «Executive's Guide to Web Services»
Wiley | ISBN 0471266523 | 2003 Year | CHM | 6,92 Mb | 240 Pages
Executives must continually seek to grow revenue, reduce costs, and improve operating efficiencies. Today, Web services are emerging as a critical technology for achieving these business objectives. Early adopters are deploying Web services as an integration platform to reduce costs. Web services are being used to improve the operating efficiency of relationships with customers, partners, and suppliers. And inevitably, organizations will utilize this emerging technology as a foundation for driving revenue growth by creating new business models and developing new markets.

The premise of Executive's Guide to Web Services is that the adoption of Web services will not be based on the desire to implement a "new technology," but rather on the technology's ability to deliver strategic business value. The authors untangle the maze of standards, concepts, and terminology that blur Web services, arming the reader with enabling concepts and providing a solid foundation and reference text with which to unleash untapped business potential.

After the false promises and financial burden of the dotcom boom and bust, many executives are understandably gun shy about new technology. This time, however, IT vendors have hit the mark, delivering tools that do not claim to reinvent the practice of business, buy simply make it smoother, quicker, and more efficient. The Executive's Guide to Web Services is essential reading for CEOs, CFOs, CIOs, and all business leaders.