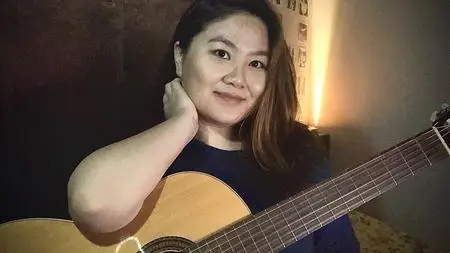 Guitar101: Step by step guitar lesson for absolute beginners
Duration: 1h 56m | .MP4 1280x720, 30 fps(r) | AAC, 44100 Hz, 2ch | 2.49 GB
Genre: eLearning | Language: English
Sing and strum guitar without mastering music theories. Perfect all-in-one basic guitar course for beginners.
What you'll learn
Basic guitar techniques
Sing and Strum
Basic Chords
Diagnosis to the problems that they might be having
Have fun with guitar
Requirements
Any type of guitar (classical, acoustic and electric)
No guitar skill needed
Determination to learn
Description
This course is designed for beginners to learn enough but not too much. As a beginner, you don't want to be overwhelmed with too much information that you can't digest. But no worries, you will still learn a great deal about guitar and receive all the information you need! Tired of learning with instructors that talk about songs that you have no idea about? Then this is the right place for you!
In this course, you will learn how to make guitar your best friend and fall in love with it!
The topics that you will learn in this course include:
Section 1: Introduction
a. Introduction and course expectation
b. Types of Guitar and Guitar Parts
c. Sitting position
d. Tools for guitar
e. Tuning
Section 2: Let's Talk about Right-Hand
a. Chapter introduction
b. Finger placement
c. Strokes
d. Strumming
e. Plucking
f. Strumming and plucking pattern practice
Section 3: All about Left-Hand
a. Chapter introduction
b. Beats and rhythm
c. C and G chord
d. Am and Em chord
e. F and D chord
Section 4: Let's combined everything!
a. Chapter introduction
b. Sing along (Ed Sheeran- Perfect)
c. Spice things up!
Section 5: I know you wonder how to make things right..
a. Addressing some common mistakes
b. FAQ
c. Special message for you
This course is for all potential musician who wants to share their guitar journey with me. What are you waiting for? Enrol in this course now and get your engines started!
Look forward to seeing you there ??‍♀️
Who this course is for:
Beginner guitar players who wants to learn more about guitar
Millennials who prefers trendy/pop music
Guitar players who gave up and wish to start again
Millennials who has trouble understanding their current teacher
More Info