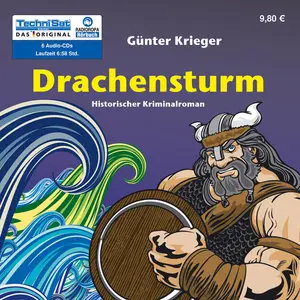 Günter Krieger - Drachensturm
Genre: Fantasy | Time: 06:58:44 | Publisher: Radioropa Horbuch | ISBN: 3866676883 | 19. Februar 2007
Language: Deutsch | Audiobook in MP3 / 128 kbps | 395.08 MB
Beschreibung:
Wie eine biblische Plage fallen die Wikinger gegen Ende des 9. Jahrhunderts über das zerfallene Karolingerreich her. Auch im Rheinland hinterlassen sie eine grausige Spur der Verwüstung und des Todes. Städte wie Neuss, Jülich, Zülpich, Köln, Aachen und Bonn werden gebrandschatzt, die reichen Eifelklöster geplündert und dem Erdboden gleichgemacht. Scharen von Flüchtlingen strömen durch das Land, unter ihnen die junge verwaiste Uta und ihr Bruder Hugo. Uta besitzt seit ihrer Kindheit seherische Gaben: Sie kann Menschen erkennen, die in Kürze sterben werden. Den Geschwistern wird bald eine erschütternde Erkenntnis zuteil: Nicht die Wikinger waren es, die einst ihren Vater ermordeten. Uta sinnt auf Rache. Hinter der schützenden Stadtmauer von Mainz vermutet sie den wahren Täter…
Download Günter Krieger - Drachensturm:
filesonic.com
|
wupload.com
|
uploaded.to
Pass: avaxhome.ws
Mehr Audiobucher von mir findet Ihr in
My Blog
If you'll find that my links are dead please let me know through the Private Messages.
Please DO NOT MIRROR