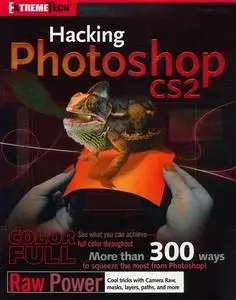 PDF - 454 pages - By Shangara Singh
Publisher: Wiley (October 21, 2005)
Language: English
ISBN : 0-7645-9788-4
29.4Mb
Book Description
This is absolutely the ultimate guide to hacking Adobe's wildly popular graphics software, written by an Adobe Certified professional photographer and designer.
This is serious, down and dirty, tweaking – blowing away the default settings, customizing appearance, optimizing performance, customizing tools and offering readers total control over Photoshop like never before. With these 300+ hacks, readers will find their work with Photoshop faster and easier than ever.
Roll up your sleeves, and dive into these hacks including:
* Faster Photoshop startup
* Customizing the Photoshop interface
* Hacking Photoshop's Tools
* Access hidden dialog buttons
* Hacks for Masks, Layers, Paths, Curves and Selections
* Camera Raw tricks
and so much more.
http://rapidshare.com/files/3317449/Photo.rar
Thank you to use my link.
The password is correct.
PASS : thorgal